Seabourn is charting a new course in cruising when it becomes the first ever ultra-luxury cruise line to sail around the entire continent of Africa in one epic new voyage. 
The Grand Africa Voyage departs roundtrip from Barcelona on November 30, 2024 and will enter the history books 90 days later when it completes its circumnavigation of Africa, having sailed 17,000 miles, a journey that visits 44 marquee and off-the-beaten-path ports.
The itinerary includes six overnight stays in fascinating ports.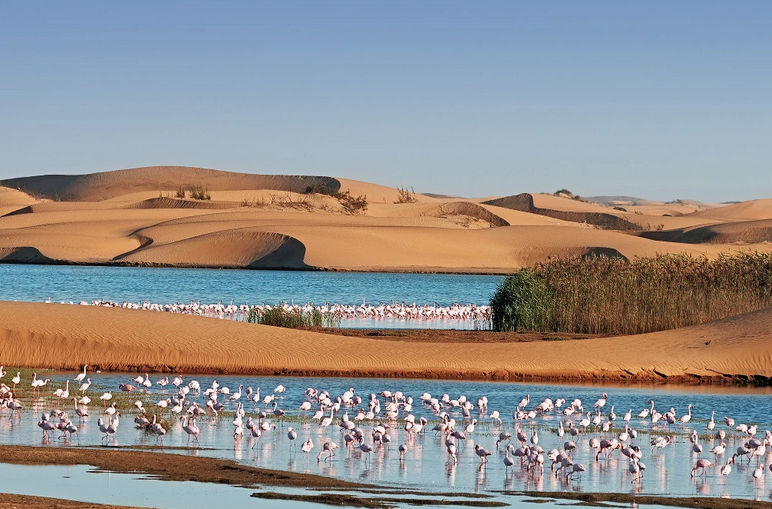 Featured destinations on the Grand Africa Voyage include arid lands, modern and historic cities and tropical paradises; wild landscapes and pristine marine enclaves:
Alexandria (Cairo), Egypt's ancient landmarks, stunning architecture, and vibrant markets.Guests will have the option to join an excursion to see the Pyramids at Giza.
Safaga (Luxor), Egypt: the world's "greatest open-air museum."
Mombasa, Kenya's wildlife up close in Mombasa with overnight Seabourn Journeys, including Tsavo National Park Safaris, a Masai Mara National Reserve Safari and a Rwanda Gorilla Trek.
Cape Town, South Africa's cosmopolitan charms, iconic landmarks such as Table Mountain and adventure tourism, including catamaran sailing, kayaking and more.
Bom Bom Island, Sao Tome & Principe is the site of a Seabourn Signature Moment: a beach BBQ on pristine beaches, lush tropical forests, and crystal-clear waters.
Casablanca, Morocco's bustling souks, stunning architecture, and vibrant nightlife.
From Seabourn Sojourn, guests can hike, scuba, snorkel, go on safari, and be immersed in cultural experiences like visit to a camel milk farm, botanical gardens, living archaeological museums, and more.
Multi-day Seabourn Journeys in several destinations offer in-depth exploration opportunities ton land that cannot be accessed on single-day excursions from the ship, including a gorilla sanctuary, Victoria Falls and more.
Seabourn offers guests an all-inclusive, ultra-luxury, small-ship experience. The ship provides all-suite accommodations with oceanfront views; award-winning dining; complimentary premium spirits and fine wines available at all times; renowned service provided by a warm and friendly crew; a relaxed, sociable atmosphere that makes guests feel at home. Shipboard programming includes partnerships with leading entertainers, dining, personal health and wellbeing personalities and engaging speakers.
Seabourn's Grand Africa Voyage is open for sale with us now. 
With a capacity for only 450 guests, it's sure to fill up soon.
Don't miss this chance for the all-African discovery cruise of a lifetime.
Early Booking Bonus
If you book the Grand Africa Voyage with us and pay in full by July 26, 2023, will receive 10% savings off the cruise fare.
Guests who book the full 90-day Grand Africa Voyage will receive a value-packed menu of complimentary benefits and amenities, including:
Gala Bon Voyage dinner & overnight hotel stay at Hotel Majestic prior to departure in Barcelona
An exclusive Grand Cruise event in Cape Town
Special Grand Cruise pillow gifts
Roundtrip business-class air
$2,000USD Shipboard Credit per ocean view and veranda suite ($1,000USD shipboard credit per person)
$3,000USD Shipboard Credit per Penthouse and premium suite ($1,500USD shipboard credit per person)
Private car transfers door-to-door between home and airport
Luggage shipping service between home and ship in Barcelona
Unlimited laundry, dry cleaning and pressing on board
Visa package (U.S. citizens only)
Ask us for complete itinerary and pricing details and suite availability.
Terms & Conditions apply.